A Study of LY3164530 in Participants With Cancer
| | |
| --- | --- |
| Status: | Recruiting |
| Conditions: | Cancer, Cancer |
| Therapuetic Areas: | Oncology |
| Healthy: | No |
| Age Range: | 18 - Any |
| Updated: | 4/21/2016 |
| Start Date: | August 2014 |
| End Date: | March 2017 |
| Contact: | There may be multiple sites in this clinical trial. 1-877-CTLILLY (1-877-285-4559) or |
| Phone: | 1-317-615-4559 |
A Phase 1 Study of LY3164530, a Bispecific Antibody Targeting MET and EGFR, in Patients With Advanced or Metastatic Cancer
The main purpose of this study is to evaluate the safety of a study drug known as LY3164530
in participants with cancer that is advanced and/or has spread to another part(s) of the
body.

Inclusion Criteria

- Have advanced or metastatic cancer and be an appropriate candidate for experimental
therapy.

- Have adequate organ function.

- Prior Treatments:

- Systemic treatments: Must have discontinued previous systemic treatments for
cancer and recovered from the acute effects of therapy. Participants must have
discontinued:

- Cytotoxic therapies or targeted agents that are small molecule inhibitors
for 5 half-lives or at least 28 days.

- Mitomycin-C or nitrosourea therapy for at least 42 days and biologic agents
for at least 28 days.

- Radiation therapy and surgery must be completed 4 weeks prior to therapy, except
for limited field radiation therapy, which must be completed 2 weeks before
therapy.

- If participant is of reproductive potential, must agree to use medically approved
contraceptive precautions during the study and for three months following the last
dose of study drug.

- If the participant is a female of childbearing potential, must have had a negative
serum or urine pregnancy test within 14 days of the first dose of study drug and must
not be breast feeding.

Exclusion Criteria:

- Must not have taken an unapproved drug as treatment for any indication within the
last 28 days prior to starting study treatment.

- Must not have an active symptomatic fungal, bacterial or viral infection, including
human immunodeficiency virus (HIV) or Hepatitis A, B, or C.

- Must not have a serious preexisting medical conditions or concomitant disorders.

- Must not have leukemia.

- Must not have QT interval of >470 millisecond.

- Must not have a serious cardiac condition, such as congestive heart failure, unstable
angina pectoris, or heart attack within the last 3 months.

We found this trial at
3
sites
Scottsdale, Arizona 85258
Principal Investigator: Michael Gordon
Phone: 480-860-5000
Click here to add this to my saved trials

1515 Holcombe Blvd
Houston, Texas 77030
 713-792-2121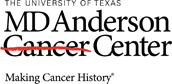 Principal Investigator: David Hong
Phone: 713-563-5844
University of Texas M.D. Anderson Cancer Center The mission of The University of Texas MD...
Click here to add this to my saved trials

Principal Investigator: Amita Patnaik
Phone: 210-593-5270
Click here to add this to my saved trials