Sorafenib and 5-Azacitidine in Acute Leukemia + Myelodysplastic Syndrome
| | |
| --- | --- |
| Status: | Recruiting |
| Conditions: | Blood Cancer, Leukemia |
| Therapuetic Areas: | Oncology |
| Healthy: | No |
| Age Range: | Any |
| Updated: | 2/4/2013 |
| Start Date: | January 2011 |
| Contact: | Farhad Ravandi-Kashani, MD |
| Phone: | 713-792-7305 |
Phase I/II Study of Sorafenib and 5-Azacitidine for the Treatment of Patients With Refractory or Relapsed Acute Leukemia and Myelodysplastic Syndrome (MDS) - (VZ-MDS-PI-0227)

The goal of this clinical research study is to learn if 5-azacitidine and sorafenib can
control the disease in patients with AML or MDS. The safety of this drug combination will
also be studied.


The Study Drugs:

Sorafenib is designed to block the function of important proteins in cancer cells. These
proteins, when active, are partly responsible for the abnormal growth and behavior of cancer
cells.

5-Azacytidine is designed to activate ("turn on") certain genes in cancer cells whose job is
to fight tumors.

Study Drug Administration:

If you are found to be eligible to take part in this study, you will receive 5-azacytidine
either under the skin or by vein on Days 1-7 of each 28-day cycle. If by vein, the infusion
will take about 10-40 minutes.

You will take sorafenib by mouth 2 times a day about 12 hours apart, with water on empty
stomach, every day.

Each study cycle may last a little longer than 28 days, depending on how you are doing.

Study Visits:

Every week, blood (about 1 tablespoon) will be drawn for routine tests.

Every week for the first 6 weeks, and then as often as your doctor thinks it is needed, you
will have your blood pressure measured.

Before each cycle:

- Your performance status will be recorded.

- You will have a physical exam, including measurement of your blood pressure and weight.

Before every 2-4 cycles, you will have a bone marrow aspirate to check the status of the
disease.

Length of Study:

You may continue taking the study drugs for as long as the doctor thinks it is in your best
interest. You will no longer be able to take the study drugs if the disease gets worse or
intolerable side effects occur.

Your participation on the study will be over once you have completed the end-of-treatment
and follow-up visits.

End of Study Drug Administration Visit:

After you have stopped taking the study drugs, the following tests and procedures will be
performed:

- Your medical history will be recorded.

- Your performance status will be recorded.

- You will have a physical exam, including measurement of your blood pressure and weight.

- You will have a bone marrow aspirate collected to check the status of disease.

This is an investigational study. Sorafenib is FDA approved and commercially available for
kidney cancer and liver cancer. 5-Azacitidine is FDA approved for the treatment of MDS, but
its combination with sorafenib is investigational.

Up to 60 patients will take part in this study. All will be enrolled at MD Anderson.


Inclusion Criteria:

1. Patients with MDS, CMML or AML, who have failed pror therapy (including low and
intermediate risk patients who have required prior therapy).

2. Patients with MDS or CMML should have failed prior therapy with a hypomethylating
agent and/or with lenalidomide. Patients who have received prior azacitidine are
eligible if the treating physician feels that participation in the sudy is in the
patients' best interest.

3. Patients with AML should have failed any prior induction therapy or have relapsed
after prior therapy.

4. Patients with MDS or CMML who received therapy with hypomethylating agent and
progress to AML are eligible at the time of diagnosis of AML regardless of any prior
therapy for AML.

5. Patients with any of the eligible diagnoses who have received no prior therapy are
eligible if not candidates to receive or refuse standard therapy.

6. Age of greater than or equal to 18 years of age.

7. ECOG Performance Status less than or equal to 2.

8. Adequate liver (bilirubin less than or equal 1.5 x ULN, ALT and AST less than or
equal 2.5 x ULN and Alkaline phosphatase less than 4 x ULN if not related to leukemic
disease) and renal (creatinine less than or equal 1.5x ULN) function. Amylase and
Lipase must be less than or equal 2 X ULN.

9. Patients must provide written informed consent.

10. Patients must have been off chemotherapy for 2 weeks prior to entering this study,
unless there is evidence of rapidly progressive disease, and must have recovered from
the toxic effects of that therapy to at least grade 1. Use of hydroxyurea for
patients with rapidly proliferative disease is allowed before the start of study
therapy but should be stopped for 24 hours prior to initiation of azacitidine.

11. Women of childbearing potential should be advised to avoid becoming pregnant with an
adequate method of contraception (barrier or hormonal methods) and men should be
advised to not father a child while receiving treatment with azacytidine. All men and
women of childbearing potential must use acceptable methods of birth control
throughout the study as described below: Women of childbearing potential must have a
negative serum pregnancy test performed within 7 days prior to the start of
treatment. Men should use adequate birth control for at least 30 days after the last
administration of sorafenib. Post-menopausal women (defined as no menses for at least
a year) and surgically sterilized women are not required to undergo a pregnancy test.

12. Females of childbearing potential Recommendation is for 2 effective contraceptive
methods during the study. Adequate forms of contraception are double-barrier methods
(condoms with spermicidal jelly or foam and diaphragm with spermicidal jelly or
foam), oral, depo provera, or injectable contraceptives, intrauterine devices, and
tubal ligation.

13. Male patients with female partners who are of childbearing potential: Recommendation
is for male and partner to use at least 2 effective contraceptive methods, as
described above, during the study.

14. Ability to understand and the willingness to sign a written informed consent. A
signed informed consent must be obtained prior to any study specific procedures.

15. INR less than 1.5. Patients receiving anti-coagulation treatment with an agent such
as warfarin or heparin may be allowed to participate. For patients on warfarin, the
INR should be measured prior to initiation of sorafenib and monitored at least
weekly, or as defined by the local standard of care, until INR is stable.

Exclusion Criteria:

1. Nursing and pregnant females.

2. Patients with acute promyelocytic leukemia are excluded unless multiply refractory
and no other standard treatment strategies are available to them

3. Patients with known allergy to sorafenib or azacitidine, mannitol or any of their
components.

4. Patients with known impairment of gastrointestinal (GI) function or GI disease that
may significantly alter the absorption of sorafenib.

5. Patients with any other known disease (except carcinoma in-situ) or concurrent severe
and/or uncontrolled medical condition (e.g. uncontrolled diabetes, cardiovascular
disease including congestive heart failure, myocardial infarction within 6 months and
poorly controlled hypertension, chronic renal disease (creatinine clearance < 20
ml/min using the Cockcroft and Gault formula)., or active uncontrolled infection)
which could compromise participation in the study.

6. Patients with a known confirmed diagnosis of HIV infection or active viral hepatitis
(B or C).

7. Patients who have had any major surgical procedure within 28 days of Day 1.

8. Patients unwilling or unable to comply with the protocol.

9. Patients with known malignant disease of the central nervous system or advanced
malignant hepatic tumors.

10. Cardiac disease: Congestive heart failure greater than class II NYHA. Patients must
not have unstable angina (anginal symptoms at rest) or new onset angina (began within
the last 3 months) or myocardial infarction within the past 6 months.

11. Cardiac ventricular arrhythmias requiring anti-arrhythmic therapy.

12. Uncontrolled hypertension defined as systolic blood pressure greater than 140 mmHg or
diastolic pressure greater than 90 mmHg, despite optimal medical management.

13. Active clinically serious infection greater than CTCAE v4. Grade 2 not controlled
with antibiotics.

14. Thrombolic or embolic events such as a cerebrovascular accident including transient
ischemic attacks within the past 6 months.

15. Pulmonary hemorrhage/bleeding event greater than CTCAE v4. Grade 2 within 4 weeks of
first dose of study drug.

16. Any other hemorrhage/bleeding event greater than CTCAE v4. Grade 3 within 4 weeks of
first dose of study drug.

17. Serious non-healing wound, ulcer, or bone fracture.

18. Evidence or history of bleeding diathesis or coagulopathy

19. Known or suspected allergy to sorafenib or any agent given in the course of this
trial.

20. Patients with a history of solid organ transplant

21. Patients with seizure disorder requiring medication (such as antiepileptics).

22. Use of strong CYP3A4 inducers (eg, St. John's wort, dexamethasone at a dose of
greater than 16 mg daily, phenytoin, carbamazepine, rifabutin, phenobarbital, or
rifampin within seven days of initiating dosing

23. Substance abuse, medical, psychological or social conditions that may interfere with
the patient's participation in the study or evaluation of the study results

We found this trial at
1
site
1515 Holcombe Blvd
Houston, Texas 77030
 713-792-2121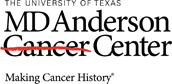 University of Texas M.D. Anderson Cancer Center The mission of The University of Texas MD...
Click here to add this to my saved trials