MEK Inhibitor AZD6244 and Cetuximab Treating Patients With Advanced or Refractory Solid Tumors That Cannot Be Removed By Surgery
| | |
| --- | --- |
| Status: | Recruiting |
| Conditions: | Colorectal Cancer, Cancer, Cancer |
| Therapuetic Areas: | Oncology |
| Healthy: | No |
| Age Range: | Any |
| Updated: | 10/21/2012 |
| Start Date: | October 2010 |
A Phase 1 Study of AZD6244 in Combination With Cetuximab in Refractory Solid Tumors

RATIONALE: MEK inhibitor AZD6244 may stop the growth of tumor cells by blocking some of the
enzymes needed for cell growth. Monoclonal antibodies, such as cetuximab, can block tumor
growth in different ways. Some block the ability of tumor cells to grow and spread. Others
find tumor cells and help kill them or carry tumor-killing substances to them. Giving MEK
Inhibitor AZD6244 together with cetuximab may kill more tumor cells.

PURPOSE: This phase I trial is studying the side effects and the best dose of MEK Inhibitor
AZD6244 when given together with cetuximab in patients with advanced or refractory solid
tumors that cannot be removed by surgery.


OBJECTIVES:

Primary

- To determine the dose-limiting toxicities and the maximum-tolerated dose of MEK
inhibitor AZD6244 (AZD6244) in combination with cetuximab in patients with advanced or
refractory solid tumors.

- To assess for evidence of anti-tumor activity with this combination, per tumor
measurements using RECIST criteria, in these patients.

Secondary

- To evaluate the pharmacokinetics of this combination in these patients.

- To evaluate the safety and tolerability of this combination in patients with
K-RAS-mutated metastatic colorectal cancer.

- To assess the inhibition of the RAF/MEK/ERK pathway in peripheral blood mononuclear
cells secondary to treatment with AZD6244.

- To correlate the pharmacokinetics of this combination with side effects in these
patients.

OUTLINE: This is a dose-escalation study of MEK inhibitor AZD6244.

Patients receive oral MEK inhibitor AZD6244 once or twice daily on days 1-28 and cetuximab
IV over 60 minutes on days 1, 8, 15, and 22. Courses repeat every 28 days in the absence of
disease progression or unacceptable toxicity.

Blood samples are collected at baseline and periodically during study for pharmacokinetic
and biomarker analyses.

After completion of study treatment, patients are followed up for 1 month or every 3 months
for 1 year.


DISEASE CHARACTERISTICS:

- Histologically confirmed solid tumor (dose-escalation cohort)

- Metastatic or unresectable disease for which standard curative or palliative
measures do not exist or are no longer effective

- Histology can be based on either the primary tumor or metastases

- Biopsy-proven KRAS mutant, metastatic colorectal cancer that has progressed on ≥ 2
prior standard therapies (expansion cohort)

- K-RAS mutation status verified by CLIA-certified laboratory

- Patients with colorectal cancer do not need to be -RAS mutant in order to enroll
in the dose-escalation portion of the study

- Brain metastases that have been treated and stable for 2 months allowed

PATIENT CHARACTERISTICS:

- ECOG performance status (PS) 0-2 (Karnofsky PS 60-100%)

- Life expectancy > 3 months

- WBC ≥ 3,000/mm³

- ANC ≥ 1,500/mm³

- Platelet count ≥ 100,000/mm³

- Total bilirubin normal

- AST and ALT ≤ 2.5 times upper limit of normal (ULN) (≤ 5.0 times ULN if liver
metastases are present)

- Creatinine ≤ 1.5 times ULN OR creatinine clearance ≥ 45 mL/min

- Fertile patients must use effective contraception before, during, and for 16 weeks
after the last dose of study treatment

- Negative pregnancy test

- Not pregnant or nursing

- No history of allergic reactions attributed to compounds of similar chemical or
biologic composition to AZD6244 or other agents used in study

- No condition (e.g., gastrointestinal tract disease resulting in an inability to take
oral medication, a requirement for IV alimentation, prior surgical procedures
affecting absorption, or active peptic ulcer disease) that impairs their ability to
swallow and retain AZD6244 capsules

- None of the following:

- Malabsorption syndrome

- Disease significantly affecting gastrointestinal function

- Resection of the stomach or small bowel

- Ulcerative colitis

- Inflammatory bowel disease

- Partial or complete small bowel obstruction

- No uncontrolled intercurrent illness including, but not limited to, any of the
following:

- Ongoing or active infection

- Symptomatic congestive heart failure

- Uncontrolled hypertension

- Prior cardiomyopathy

- LVEF < 50%

- Unstable angina pectoris

- Cardiac arrhythmia (i.e., atrial fibrillation)

- Psychiatric illness/social situations that would limit compliance with study
requirements

- Not serologically positive for hepatitis B or C, have a history of liver disease,
other forms of hepatitis, or cirrhosis

PRIOR CONCURRENT THERAPY:

- See Disease Characteristics

- At least 4 weeks since prior chemotherapy and hormonal therapy (6 weeks for
nitrosoureas or mitomycin C)

- At least 4 weeks since prior radiotherapy and no > 35% of bone marrow irradiated

- Must have recovered to ≤ grade 1 adverse events

- Prior cetuximab allowed

- Must be recovered from prior surgical procedures

- Concurrent anti-coagulation therapy with LMWH or warfarin allowed

- Patients receiving warfarin and AZD6244 should have more frequent PT/INR
monitoring

- More than 4 weeks since prior and no other concurrent investigational agents or
devices

- No concurrent high-doses (more than recommended daily dose) of vitamin E

- No concurrent combination antiretroviral therapy for HIV-positive patients

- No other concurrent or prior strong CYP1A2 or 3A4 inducers and/or inhibitors within
the past 7 days including, but not limited to, any of the following:

- Ketoconazole, rifampicin, atazanavir, clarithromycin, indinavir, itraconazole,
nefazodone, nelfinavir, ritonavir, saquinavir, telithromycin, troleandomycin
(TAO), voriconazole, grapefruit or grapefruit juice, rifabutin, rifapentine,
phenytoin, carbamazepine, phenobarbital, and St. John wort

We found this trial at
1
site
600 Highland Ave.
Madison, Wisconsin 53792
(608) 262-5223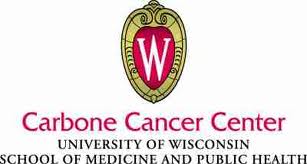 University of Wisconsin Paul P. Carbone Comprehensive Cancer Center UW Carbone Cancer Center holds the...
Click here to add this to my saved trials