A Trial of Observed Long-acting, Anti-HIV Treatment With a Monoclonal CCR5 Antibody (PRO 140) as an Adjunct to a New, Optimized, Oral Antiretroviral Regimen in HIV-infected Injection Drug Users With Viral Rebound and Documented Poor Adherence
| | |
| --- | --- |
| Status: | Recruiting |
| Conditions: | HIV / AIDS |
| Therapuetic Areas: | Immunology / Infectious Diseases |
| Healthy: | No |
| Age Range: | 18 - Any |
| Updated: | 4/21/2016 |
| Start Date: | December 2013 |
| End Date: | February 2017 |
| Contact: | Sharon Lewis |
| Email: | sharon.lewis@drexelmed.edu |
| Phone: | 215-762-3251 |
A Phase 2b, Randomized, Double-Blind, Placebo-Controlled Clinical Trial of Observed Systemic, Long-Acting, Anti-HIV Treatment With a Monoclonal Anti CCR5 Antibody (PRO 140) as an Adjunct to a New, Optimized, Oral Antiretroviral Regimen in HIV-Infected Injection Drug Users With Viral Rebound and Documented Poor Adherence to the Previous Antiretroviral Regimen
PRO 140 2102 is a phase 2b, national, multicenter, randomized, double-blind,
placebo-controlled study in order to evaluate the safety and efficacy of PRO 140 (anti-CCR5
monoclonal antibody) administered subcutaneously as an adjunct to a new, optimized, oral
antiretroviral regimen in HIV-infected injection drug users with viral rebound and
documented poor adherence to the previous antiretroviral regimen.

Key Inclusion Criteria:

1. Only R5 virus

2. HIV-1 RNA > 1,000 copies/mL but < 100,000 copies/mL

3. CD4+ lymphocyte counts > 100 cells/μL

4. Non-prescription recreational drug use within the previous 6 months

Key Exclusion Criteria:

1. Females who are pregnant (positive blood test), lactating, or breastfeeding, or who
plan to become pregnant during the study

2. Prior use of any CCR5 entry inhibitors

3. History of any acquired immune deficiency syndrome (AIDS)-defining illness

We found this trial at
1
site
2900 W Queen Ln
Philadelphia, Pennsylvania 19129
(215) 991-8100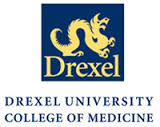 Principal Investigator: Jeff Jacobson, MD
Phone: 215-762-3251
Drexel University College of Medicine Drexel University College of Medicine represents the consolidation of two...
Click here to add this to my saved trials