Castlerock Clinical Research Consultants, LLC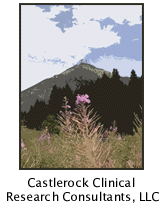 Castlerock Clinical Research Consultants (CCRC) is a dedicated clinical research site. The site completes specialty, adult, outpatient trials, primarily:
Internal Medicine
Cardiology
Neurology
Dermatology
Infectious Disease
Pulmonary Medicine
Gastroenterology
Ear nose and throat
The site is dedicated to excellence and has been developed to meet the need for medical and health research intended to produce valuable knowledge for understanding human disease prevention, treatment of illness, and promotion of health.
The investigators and staff of CCRC have extensive experience in the conduct of clinical trials. Trial experience includes phase II through IV studies specific to cardiology, endocrinology, musculo-skeletal, gastrointestinal, internal medicine, ENT pharmaceutical agents, and pulmonary medicine. CCRC has participated in many precedent setting studies that have helped change Standard of Care Guidelines in the practice of medicine.
Sponsors for which we have experience include Parke-Davis, Pfizer, Roche, Bristol-Myers Squibb, Kos, Smith Kline Beecham, GlaxoSmith Kline, Merck, Schering Plough, Takeda Astra Zeneca, Aventis, Sankyo, Novartis, Lilly and others. CROs we have worked with include Covalent, Covance, Quintiles, PPD, ICON, Omnicare, Integrium, Medpace and others.
All Investigators are board certified in their specialty and manage large, outpatient medical practices. The following Investigators are experienced in the conduct of clinical trials:
Richard N. Marple, MD, FACP, CPI -Internal Medicine
Rajesh Bhandari, MD-Internal Medicine
Susan B. Marple, RN, MSN, NP, CCRC
Specialty investigators are available, as needed, for consultation on all clinical trials.
In 2002 Susan B. Marple MSN, NP, CCRC and Richard N. Marple, MD, FACP, CPI answered the call for excellence in the clinical research industry by organizing an independent site, Castlerock Clinical Research Consultants. All research personnel have completed certification for the following: SafTpak training for the shipment of Dangerous Goods, Shared Care Certification for Blood Pressure Monitoring, BCLS certification, as well as state licensure in their profession. Certification by the Association of Clinical Research Professionals is mandatory for all eligible employees.
Richard N. Marple, MD, FACP, CPI Principal Investigator functions as Medical Director for the site. Dr. Marple has many years experience as Medical Director and Principal Investigator as well as having served as a member of the local Institutional Review and Ethics Board. Dr. Marple is certified in clinical research by the Academy of Pharmaceutical Physicians and Investigators.
Rajesh Bhandari, MD, Sub-Investigator performs physical exams and functions as investigator in Dr. Marple's absence.
Susan B. Marple MSN, NP, CCRC,Sub-Investigator is CEO and Clinical Director of Castlerock CRC and has previous experience developing and operationalizing a clinical research site. Ms. Marple has extensive clinical trial experience and has started CCRC as an independent Clinical Research Site dedicated to excellence. Nurse practitioner specialty areas include cardiology and endocrinology. Susan is certified by the Association of Clinical Research Professionals.
Joan Benedict, Regulatory Specialist functions as Administrative Assistant, Office Manager and Regulatory Specialist. Joan completes initial regulatory documents within 48 hours after receipt and maintains impeccable regulatory files.
Tami Dillon, LPN, CRC is full time, Lead Study Coordinator and has many years clinical and research experience.
Julia Miller, RN., full time Study Coordinator, Julia joined Castlerock Clinical Research Consultants in March, 2009 and has proven to be an excellent addition to our coordinator staff.
Demographic information indicates that the Tulsa Metropolitan area includes 850,000 residents primarily Caucasian, Hispanic, African American, and Native Americans. Private medical practices of investigators are reflective of the ethnic mix.
Cardiology/Vascular Diseases
Endocrinology
Gastroenterology
Immunology/Infectious Diseases
Musculoskeletal
Psychiatry/Psychology
Pulmonary/Respiratory Diseases
Rheumatology

Castlerock Clinical Research Consultants offer full service outpatient facilities including:
2 fully equipped exam rooms
Mercury manometers
ECG
Treadmill
Locked, temperature monitored, ambient and refrigerated drug storage
2 fully equipped laboratories
-80° freezer
-20° freezer
Locked refrigerator
2 Ambient centrifuges
Refrigerated centrifuge
2 Study monitor areas with high speed internet connection
Dedicated fax and copy machines
CRF and Regulatory document long term storage space
The research office is adjacent to Saint Francis Health System and is easily accessible via public transportation.
Susan B. Marple MSN, NP, CCRC
President & Clinical Director
Castlerock Clinical Research Consultants, LLC
6804 South Canton, Suite 200
Tulsa, OK 74136
USA
918-524-5205
918-524-6099 (fax)
sbmarple@castlerockmedical.com
www.castlerockmedical.com



We've found
0 trials
at this facility