New Clinical Trials for Athlete's Foot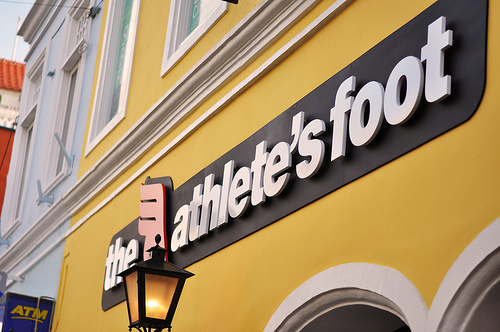 Although it is a fairly common ailment, there are always new clinical trials for athlete's foot. Athlete's foot is a fungal infection that is easily spread from one person to the next. Clinical trials for athlete's foot might focus on preventing the spread of the disease or possibly looking for shorter recovery times.
It can take up to 45 days for athlete's foot to be completely cured. However, most patient's stop treatment long before that since their symptoms subside.
What is Athlete's Foot?
Athlete's foot is a fairly common fungal infection that usually affects the feet, although it can also affect other areas of the body such as the groin. Athlete's foot is also known as ringworm of the foot, Hong Kong foot, or tinea pedis. Symptoms include dry, flaky and itchy skin.
In advanced cases the skin may crack and become very painful. Blisters may also form and the feet can become very swollen and painful. Athlete's foot is spread from person to person in moist areas where people are walking around barefoot, such as in a bathhouse or a locker room. It can usually be diagnosed visually.
Athlete's Foot Treatments
The best treatment for athlete's foot is prevention and good hygiene. This means keeping your feet clean and dry, wearing footwear at all times and not sharing wet towels with other people. There are many over the counter topical creams available to treat athlete's foot. The most common is miconazole nitrate that is applied twice a day.
The recovery time for athlete's foot can take up to 45 days although the symptoms will be gone long before then. Anti-itch medications are not generally recommended in treating athlete's foot. These simply mask the symptoms. Alternative treatments for athlete's foot might include oral medications or tea tree oil.
We've found

0 Athletes Foot

clinical trials