Henry M. Jackson Foundation
Upper San Gabriel Valley, California 91010
301-424-0800
ngardner@hjf.org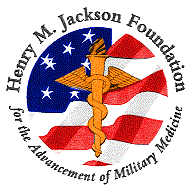 The Henry M. Jackson Foundation (HMJF) is a private, not-for-profit corporation with offices located within Wilford Hall Medical Center (WHMC) and Brooke Army Medical Center (BAMC). With investigators available in most medical and surgical specialties, both WHMC and BAMC are 450 bed tertiary care medical facilities. The HMJF Corporate Headquarters is located in Rockville, MD.
The Henry M Jackson Foundation in San Antonio works with all phases of single or multi-center research trials. With capabilities of conducting trials throughout the United States and overseas, we have on-going research studies in the fields of prostate diseases, traumatic brain injury, HIV, cardiovascular medicine and otolaryngology. HMJF San Antonio has worked with Wyeth-Ayerst, Bristol-Myers Squibb, Pfizer, GlaxoWellcome, Fujisawa, Procter & Gamble, Kendall, Rhone-Poulenc, BioPharm, Boehringer-Mannheim, Neurex, Pharmaco, Collaborative Clinical Research (CCR), and others.
Board Certified Investigators include (but not limited to):
Janice Rusnak
Infectious Diseases
Kevin Stephan
Infectious Diseases
Joyce Grissom
Neurology
Charles Syms
Otolaryngology
Theodore Parsons
Orthopaedics
Theodore Freeman
Allergy/Immunology
David Ascher
Pediatrics
Evangeline Cantu
Audiology/Speech
Sharon Wilks
Oncology/Hematology
Michael Shapiro
Cardiology
David Dawson
Vascular Surgery
Charles Davis
Infectious Diseases
Ian Thompson
Urology
John Foley
Urology
Dave Dooley
Infectious Diseases
The experience of the professional staff of the Henry M Jackson Foundaton in San Antonio varies from 2 through 26 years of research experience.
An area of over one million residents, San Antonio is a beautiful city with a population representing diverse nationalities. The San Antonio HMJF site draws from a patient population ranging in age from infant to geriatrics.
Cardiology/Vascular Diseases
Endocrinology
Hematology
Immunology/Infectious Diseases
Nephrology/Urology
Neurology
Oncology
Otolaryngology
Pediatrics/Neonatology
Trauma/Emergency Medicine

Wilford Hall Medical Center (WHMC) is a Level I Trauma Center located in San Antonio, TX. WHMC is easily accessed by automobile or public transportation, approximately 20 minutes from the San Antonio International Airport. Inpatient and outpatient facilities include an advanced neo-natal care unit, bone marrow transplant unit, kidney transplant unit, liver transplant unit, and the military's only eye bank. WHMC averages 46 daily surgeries, and 2,904 daily clinic visits. Among the specialized procedures accomplished during 1996, this facility performed 62 liver transplants, 28 kidney transplants, 45 bone marrow transplants (including 3 pediatric). The Jackson Foundation also provides services through Brooke Army Medical Center, the most modern medical facility in the Department of Defense. Brooke Army Medical Center (BAMC) was completed in 1996, and is home of the world renowned Army Burn Center. BAMC has the Department of Defense's largest installation of an automated clinical information system, with fiberoptic network providing telecommunication support to remote sites through telemedicine.
WHMC and BAMC participate fully in the trauma and emergency medicine care of the San Antonio and South Texas community, with each center receiving approximately one-fourth of the city's emergency ambulance missions. The two centers together receive about 80% of the city's penetrating trauma, typically gunshot and knife wounds.
Both facilities draw from a population of a million plus from a catchment area of 40 miles radius from San Antonio.
Norman Gardner
Development Director
Henry M. Jackson Foundation
1401 Rockville Pike, Suite 600
Rockville, MD 20852
USA
301-424-0800
301-424-5771 (fax)
ngardner@hjf.org



We've found
0 trials
at this facility