Fletcher Allen Health Care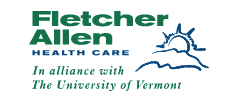 As Vermont's University Medical Center, we at Fletcher Allen are committed to providing the highest quality of care for patients and their families throughout the region. We care for people every day – helping them in their time of need, offering compassion and a kind word, and providing leading edge, research-based therapies. Above all, we are dedicated to service and putting patients first. Everyone deserves high-quality care, and we honor the human experience every day, in everything we do.
Through a vital partnership, Fletcher Allen, the University of Vermont College Medicine and the College of Nursing and Health Sciences form Vermont's University Medical Center – one of just 138 such centers in the country. Together in service, we improve our region's quality of life with innovations in medicine and health care that arise from new knowledge and discovery.
We are committed to the development of an Integrated Delivery System, which provides high-value health care to the communities we serve and enhances our academic mission. Our nationally recognized physicians and health care professionals are researchers and teachers who are experts on the latest developments in their fields and dedicated to the art and science of medicine.
At Fletcher Allen, we deliver all of the resources and opportunities of a major medical center right here in Vermont, providing patients with the breadth and depth of services they need and an array of specialists nationally acclaimed for their work in a wide range of areas including cardiology, oncology, neurology, stroke, trauma and many others.
We've found
6 trials
at this facility