Advanced Clinical Research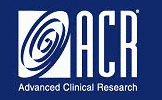 Advanced Clinical Research has specialized in conducting community based clinical research since 1984 and has extensive experience in a variety of therapeutic areas in Phase II-IV trials. ACR has managed over 700 clinical trials and enrolled more than 9,000 patients within our two independent locations in Boise, Idaho and Salt Lake City, Utah.
Our centers are exclusively dedicated to multi-therapeutic clinical research and offer a wide range of services and support to the pharmaceutical industry. Our sites are built on providing sponsors with high quality research and reliable patient enrollment in a timely manner. We have electronic patient databases, dedicated patient recruitment and marketing divisions, data entry and internal quality -assessment programs. ACR and our sister site, Rapid Medical Research (RMR), are proud members of the Elite Research Network (ERN).
Advancing Medicine.Enhancing Life.
ACR specializes in Phase II through IV clinical trials including:
Abdominal Pain
Asthma
Bird Flu Vaccine
Common Cold
Contraception
Constipation
COPD
Depression
Diabetes (Type 1 and 2)
Dysfunctional Uterine Bleeding
Erectile Dysfunction
Female Sexual Dysfunction
Fibromyalgia
Heartburn
Herpes
Hormone Replacement
Hot Flashes
HPV Vaccine
Hypercholesterolemia
Hypertension (including ABPM)
Hypotestosterone
Incontinence

Irritable Bowel Syndrome
Insomnia
Left Ventricular Hypertrophy
Low Back Pain
Migraines
Osteoarthritis
Osteoporosis
Overactive Bladder
Pain Management
Pneumonia
Postherpetic Neuralgia
Premenstrual Dysphoric Disorder (PMDD)
Premenstrual Syndrome (PMS)
Premature Ejaculation
Smoking Cessation
Tinea Pedis/Athletes Feet
Urinary Tract Infection
Vaccines
Vaginal Atrophy
Vaginitis
Women's Health Studies
ACR works closely with multi-specialty physicians in the community. ACR's principal and sub- investigators average 15 years of clinical research experience. These investigators conduct patient visits at ACR's dedicated research centers and pride themselves in being very active in the studies they are conducting.
ACR-Utah's medical director and Principal Investigator, Dr. Judith Kirstein, has been conducting research with ACR since 1992.
ACR's experienced research staff includes our Principal Investigator Dr. Judith Kirstein and team of multi-therapeutic Investigators, 5 full time Research Coordinators, 2 full time dedicated Patient Recruiters, 1 Full time Regulatory Specialists, Research Assistant, Contract and Budget specialist, QA Specialist, Business Development Specialist, Laboratory Staff and several support staff.
ACR Research Centers have teams of dedicated and experienced study coordinators located onsite, longstanding, actively involved investigators, formal, comprehensive training programs, electronic patient databases, dedicated patient recruitment and marketing divisions, considerable experience with electronic data capture and patient diary/drug accountability products. We also have standardized internal quality assurance programs and dedicated regulatory department, assuring rapid and accurate document submission including the ability to utilize central IRBs.
ACR has a large database of potential subjects of over 7,000 on site that it uses to recruit. They receive patient referrals from their Principal Investigator and Sub-Investigator's practices and other local physicians. ACR has male and female subjects in a variety of age groups from Pediatrics to Adult to Geriatric. They work closely with many sponsors on recruitment strategies for media advertising as well.
Cardiology/Vascular Diseases
Dental/Maxillofacial Surgery
Dermatology/Plastic Surgery
Endocrinology
Gastroenterology
Immunology/Infectious Diseases
Musculoskeletal
Nephrology/Urology
Neurology
Obstetrics/Gynecology
Ophthalmology
Otolaryngology
Pediatrics/Neonatology
Psychiatry/Psychology
Pulmonary/Respiratory Diseases
Rheumatology

ACR Utah is located in a customized, state-of-the-art, 5000 square foot facility on the Jordan Valley Hospital campus in West Jordan, Utah (a Salt Lake City suburb). This office has been equipped with over 6000 feet of voice and high speed data cables. There are 5 exam rooms, 2 monitor rooms, a secure, limited access and temperature controlled medication room, dedicated laboratory, large coordinator and investigator work area, large conference area, and a fully equipped administrative center.
Jeremy Rigby
Site Director
Advanced Clinical Research
3590 West 9000 South Suite 300
West Jordan, UT 84088
USA
801-542-8190 x116
801-542-8197 (fax)
jrigby@acr-research.com
www.acr-research.com/



We've found
3 trials
at this facility
Healthy Clinical Trial
A Comparison of the Safety and Immunogenicity of Various Schedules of Dengue Vaccine in Healthy Adult Volunteers
Status:
Enrolling
Updated:
10/14/2013
Click here to add this to my saved trials

Endocrinology Clinical Trial
Cardiovascular Outcomes Study of Naltrexone SR/Bupropion SR in Overweight and Obese Subjects With Cardiovascular Risk Factors (The Light Study)
Status:
Enrolling
Updated:
10/22/2012
Click here to add this to my saved trials

Type 2 Diabetes Clinical Trial
A Study of BMS-512148 (Dapagliflozin) in Patients With Type 2 Diabetes With Inadequately Controlled Hypertension on an Angiotensin-Converting Enzyme Inhibitor (ACEI) or Angiotensin Receptor Blocker (ARB)
Status:
Enrolling
Updated:
4/30/2012
Click here to add this to my saved trials