Pinnacle Trials, Inc.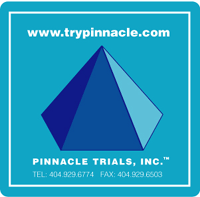 Pinnacle Trials, Inc. is a multi-specialty site network for clinical research. We offer Phase II-IV trial management and centralized study services to sponsors and contract research organizations.
Pinnacle can help bring your new drug to the market faster. Our track record proves a rapid start-up time, and high patient enrollment and completion rates.
If you are seeking experienced investigators and seasoned, certified coordinators, Try Pinnacle!
www.trypinnacle.com
Pinnacle Trials, Inc. has experienced investigators who are board certified in the following therapeutic areas:
Allergy and Immunology
Anesthesiology
Cardiology
Dermatology
Family Practice
Gastroenterology
Infectious Disease
Internal Medicine
Orthopedic Surgery
Neurology
Pediatrics/Neonatology
Psychiatry/Neurology
Pulmonary Disease
Sleep Medicine
Sports Medicine
Vascular Surgery
Please add us to your investigator database. For specific inquiries please contact us at:
siteselection@trypinnacle.com
Our name exemplifies our achievements. Pinnacle reaches the height of quality data among clinical sites. Our dedicated coordinators have years of clinical trial experience and hold expertise in various therapeutic areas. Our coordinators are ACRP and IATA certified.
Pinnacle understands the challenges involved in the drug approval process. Our staff is committed to providing quality, accurate data while fulfilling enrollment requirements in a timely manner.
Try Pinnacle! Together, we will rise to the summit of drug discovery.
Cardiology/Vascular Diseases
Dermatology/Plastic Surgery
Gastroenterology
Immunology/Infectious Diseases
Musculoskeletal
Neurology
Pediatrics/Neonatology
Psychiatry/Psychology
Pulmonary/Respiratory Diseases
Rheumatology

All of our sites can use a central IRB. All of our sites are within proximity to major airports and provide ample space for monitoring visits. Our patient population is culturally diverse and we have an extensive patient database to utilize for various study indications.
Robert Robbins, MSW, CCRC
Clinical Research Director
Pinnacle Trials, Inc.
3626 Buford Highway
Suite B-3
Atlanta, GA 30329
USA
404-929-6774
404-929-6503 (fax)
robert.robbins@trypinnacle.com
www.trypinnacle.com


We've found
0 trials
at this facility