Children's Hospital-Main Campus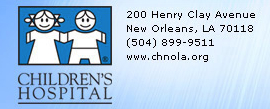 Children's Hospital is a 247-bed, not-for-profit medical center offering the most advanced pediatric care for children from birth to 21 years. With over 40 pediatric specialties and more than 400 physicians, it is the only full-service hospital exclusively for children in Louisiana and the Gulf South.
Children's Hospital recorded 200,834 patient visits in 2012, with children coming to us from all 64 parishes in Louisiana, 37 states and 6 foreign countries. In all, 60,557 children received care from our hospital last year.
Critical care is provided in the hospital's 36-bed Neonatal Intensive Care Unit (NICU), 24-bed Pediatric Intensive Care Unit (PICU), and 20-bed Cardiac Intensive Care Unit (CICU).
The hospital's Jack M. Weiss Emergency Care Center, one of the area's busiest emergency rooms, is staffed around the clock by board-certified pediatricians, with the availability of a full range of pediatric specialists. The Emergency Department has a total of 37 exam rooms and is supported by a nursing staff specially trained to handle pediatric emergencies.
Outpatient appointments with pediatric specialists are offered Monday through Friday at the Ambulatory Care Center on the hospital campus and at the hospital's satellite locations: The Metairie Center, Children's Hospital Outpatient Center of Baton Rouge and Children's Hospital Burdin Riehl Clinic in Lafayette, Louisiana.
We've found
2 trials
at this facility
Oncology Clinical Trial
Bortezomib and Combination Chemotherapy in Treating Young Patients With Relapsed Acute Lymphoblastic Leukemia or Lymphoblastic Lymphoma
Status:
Enrolling, Phase II
Updated:
10/7/2013
Click here to add this to my saved trials

Oncology Clinical Trial
Temozolomide, Cixutumumab, and Combination Chemotherapy in Treating Patients With Metastatic Rhabdomyosarcoma
Status:
Enrolling
Updated:
7/22/2013
Click here to add this to my saved trials