New Clinical Trials for Hematology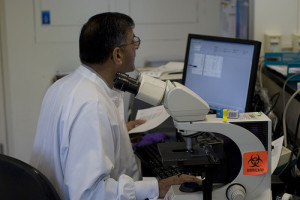 Hematology is a varied field of study that always has ongoing clinical trials. While there are existing methods of diagnosing and treating hematology disorders, it is the goal of hematology clinical studies to improve on existing methods and help discover new ones. Have you been diagnosed with a blood disorder? If so, please review our list of current hematology clinical trials and contact us if you are interested in participating.
What is Hematology?
Hematology is the area of medicine and study of blood and the organs that form blood. Doctors who specialize in this area are called hematologist. They diagnose and treat blood disorders and diseases. Hematology often crosses over into oncology. Blood diseases encompass a wide variety of diseases affecting the blood cells. This includes bleeding disorders such as hemophilia, lymphoma, leukemia, blood transfusions, and stem cell transplants. The causes of hematology disorders vary. In some cases problems are caused by an imbalance in white or red blood cells. They can also be caused by the destruction of red blood cells or sometimes there are genetic causes.
Hematology Treatments
Hematology treatments depend on the type and severity of the disorder. Some blood disorders can be cured. In certain cases of iron deficiency in the blood changes in diet can help tremendously. With other diseases oral medications may be prescribed to treat hematology disorders. If the problem involves the blood not coagulating correctly, there are anticoagulation therapies available. A few common blood disorders are sickle cell disease, Thalassemia, anemia, and lymphomas. Sickle cell disease is the result of destruction of red blood cells, whereas lymphomas are a result of too few red blood cells. Lymphomas include Hodgkin's disease. Regardless of the issue it is important to receive an accurate diagnosis and seek proper treatment for hematology disorders.